PHILIPPINES 
【PHILIPPINES】Non-resident Investor's Guide to Securing a BSRD
2023.07.11
Love the Philippines!
This is probably what the Non-resident Investors have in mind when they undertook a business venture here in the Philippines. As the Philippine economy gradually grows, foreign investors are now willing to invest and loan money to Philippine businesses or start one of their own. Once these investments bear fruit, foreign investors will be receiving this earnings/income through remittances back to their country of origin.
So even before earning from these investments, foreign investors should already consider how to ease the repatriation of investment or loaned amount and remittance of earnings when time comes. This is usually done by sourcing foreign currency (FX) from Philippine Banks via wireless transfers through bank channels. In the Philippines, Banks would require the Bangko Sentral Registration Document or BSRD when sending money out (profits or repatriation of capital). Thus, one should get to know BSRD. As nothing beats the prepared investor.
BSRD is a document issued by the Bangko Sentral ng Pilipinas (BSP) evidencing registration of foreign investments and loans in the Philippines. Generally, BSRD application shall be filed directly with the Bangko Sentral ng Pilipinas – International Operations Department together with the supporting documents. BSP requires the submission of the proof of funding to show the legitimate source of funds and proof of investment to confirm that the entities invested thereto are duly organized and existing in the Philippines.
BSRD allows non-resident investors to access or purchase FX resources from Authorized Agent Banks (AABs) for repatriation of capital and collection of earnings back to their country of origin. It also contains the list of BSP-registered onshore investments by the foreign investor in the Philippines, which gives AABs information that the investments are legitimate. Without the BSRD, foreign investors may find themselves having difficulty collecting income from their investments and may even in some circumstances raise red flags which crack open a money laundering investigation as to the legitimacy of the source of funds and the investment in general. The BSRD assures the foreign investors access to bank channels to purchase FX for ease of collection and smoother operation in the Philippines.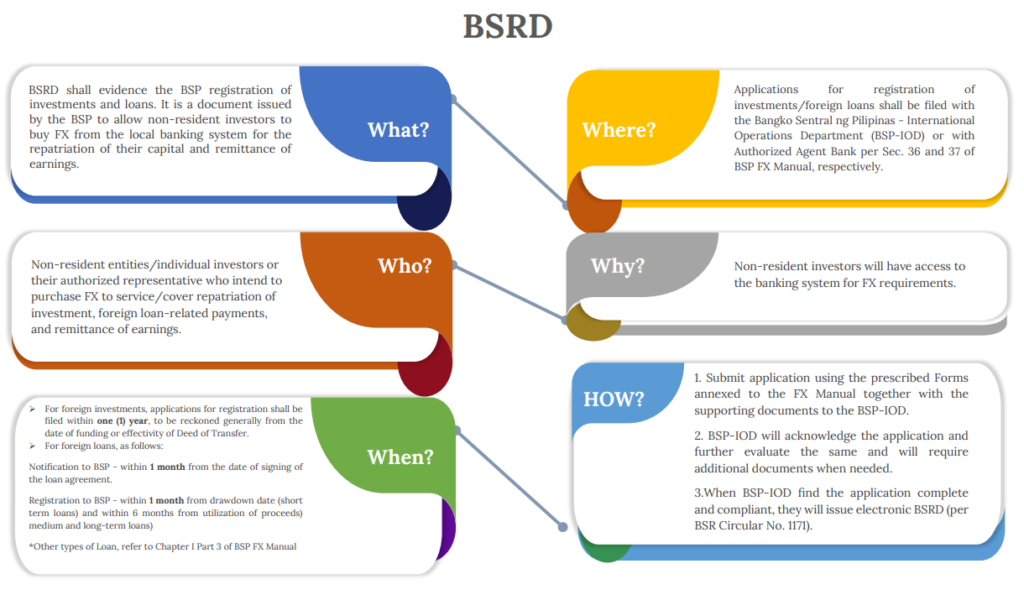 Atty. Glorydee A. Comparativo, CPA
ASAHI NETWORKS PHILS., INC.
glorydee@asahinet.asia